ICE MACHINES INTERNATIONAL, INC.

and ICE QIK® ICE VENDING TECHNOLOGY
---
Accessories
FOLLETT:
Ice storage and Transport System- Elevated bin and castered cart systems in three widths: one cart (30"), two carts (60"), and three carts (90"). Carts slide into bays below bin for gravity feed loading. Carts hold 240lbs of ice.Bins range in range size from 500lbs to 3250lbs
Ice Device Systems- Elevated bin system with one cart and three ice totes Bins range in storage size from 680lbs to 1660lbs.
Single and double Door Upright Bins- Storage capacity on single door upright bins range from 680lbs to 1660lbs. Storage capacity on double door upright bins range from 1870lbs to 4640lbs.
Sloped Front Bin- Storage capacity range from 430lbs to 1030lbs.
ICE BOX CO:
E-Z Bagger
8lb, 10lb, and 20lb bags
Logo bags (24 case minimum)
Tape Dispenser
Heavy Duty Ring Pliers
Kwik Lock Closure
MAXIMICER:
Water chilling system for ice machines
Boost daily ice perduction by 20-45%
Saves 15-30% on kilowatt-hours use year round
Increases ice machine reliability
SERVEND:
Manufacturer of counter top ice, water and drink dispensers. Ice dispenser range in storage size from 45lbs to 250lbs. The patented paddle wheel ice dispensing technology allows cubes, packaged and extruded ice to be controllably dispensed into cups from 8oz to 2 litter sizes.
MERCHANDISERS:
We offer a complete line of indoor and outdoor merchandisers.
Solid door, single and double
Glass door, single and double
Outer finish- white or vinyl
Customized signage
Customized paint colors and logos
TOOLS:
Ice shovel
Ice rake
Ice probe
Hotel room buckets
Some Ice Qik® Installations
Convenience Store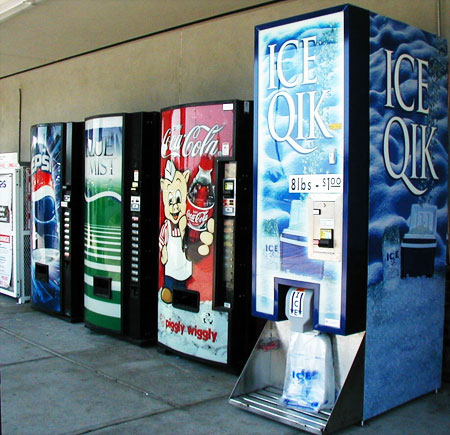 Supermarket
Liquor Store
Marina
Roadside Kiosk
---
Ice Machines International • P.O. Box 1978 • Myrtle Beach, SC 29578 • 843-449-4691